I'm feeling pretty good about today's outfit… seems like a bit of a waste to wear when I have no court scheduled, but I really wanted to break out my new shoes!
Where are they…? I can't see them!
What is up with the weird bit of hair making my head look pointed? I actually felt pretty pulled-together until I saw that pic!
I love this top soooo much… not only does it drape pretty well without clinging or bagging, but I ADORE Battenburg lace! I also love the "printed while scrunched up" effect… my mom told me the name of the technique once, but I forgot. I obviously like the colors, since they keep repeating in my wardrobe. And it can be worn with or without a belt: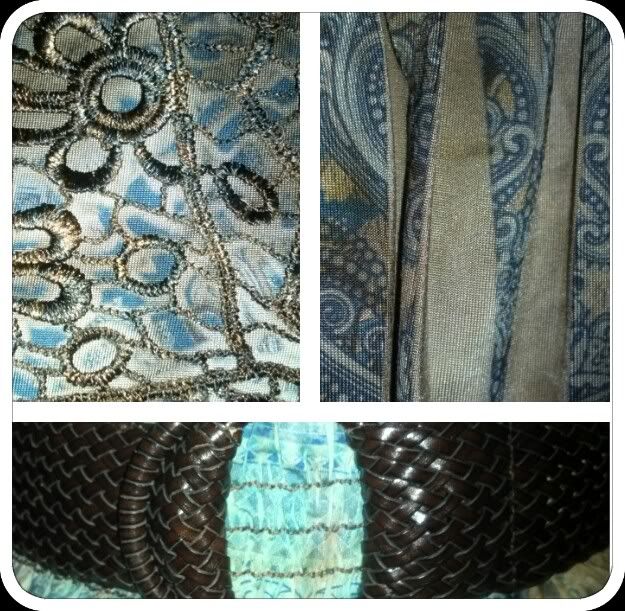 And it looks nice with earrings I've owned for years:
I still can't believe I paid $7 for this hair flower! I normally would pay $3-5… but the colors fill a big gap in my hair ornament wardrobe, and the burnt-to-curl edges really struck my fancy:
I picked these shoes up when I went shoe-shopping in Queens with Ally on Sunday. I love the color because it's not too "warm" in tone, I like the limited use of "mock-croc" rather than all-over, and I adore the unexpected-yet-discreet hematite-colored buckle!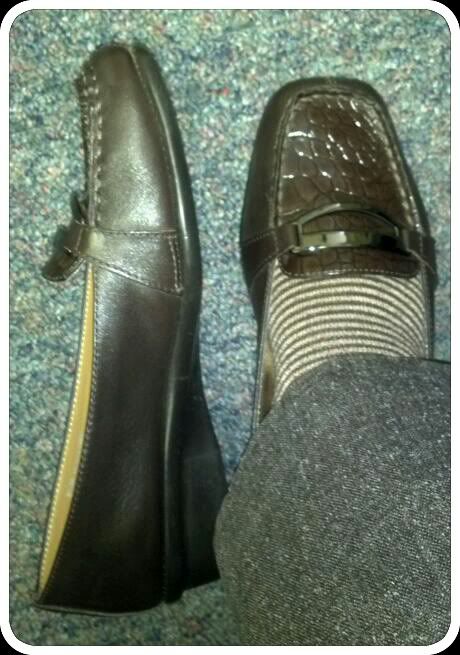 I stopped by the Farmer's Market today, as it's right across from my office, and made a beeline for the perfumed oil lady. I have a big spray bottle of her Lilac scent, and I've been keeping a small roller bottle of it in my desk, for the days I neglect to annoint myself at home. I decided I want more variety in my desk-perfume choices, so I picked up a few more rollers:
kimber'shandmadegoodies.etsy.com
Another customer at the booth brought the Blood Orange one to my attention. Amazzzzing! There was only the big bottle left, so it's going home with me! Oh! I'm not shilling for this lady, and I don't really know her. I just love her scents, and she always includes an extra goodie with purchase. When I bought the small Lilac, she included a gorgeous burnt caramel mini-soap.This time, an organic lip balm!
Stinky didn't like the Blood Orange scent when I brought it home. But what does he know? He's Stinky!
Top: Live and Let Live via Stein Mart
Belt: Target
Jacket: Talbot's Petite
Pants: Lane Bryant
Shoes: Aerosoles
Socks: Wal-Mart
Hair flower: art fair in Hammondsport, NY
Earrings: art fair in Kalamazoo, MI