My trip to Queens over the weekend netted a few goodies for me! I sifted through much of the fabulous tackiness on offer to glean a few gems. First, I picked up these huge splashy earrings.
Freeda
approved via SMS: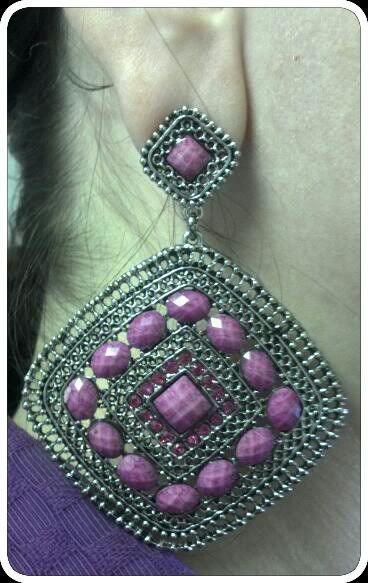 Does anybody know how to keep these from dragging my earlobe down? I look like someone out of National Geographic! They don't let you try them on in the store, and I don't normally buy very large earrings... so the Buddha-earlobe look is a bit disconcerting....
I fell in love with this purple in two different shoe styles… after much hemming and hawing, and with
Shybiker's
help, I went with the ballet flats as more practical and less likely to result in additional ankle sprains. Mine have been sprained so many times that they fold like sheets! I'm nuts over the toe detail: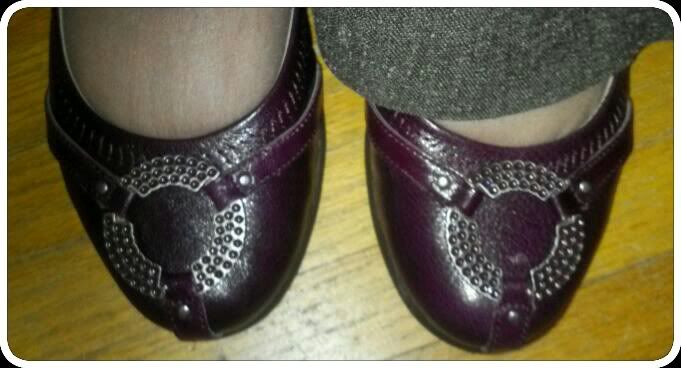 So how did I pull this all together? With brown nubby pants:
I also finally tried a UV gel manicure at home. The products worked just fine, but my technique needs improvement:
Hopefully, the cost-saving measure of doing my own nails will become more effective... then I will have more money for colored shoes!
Top: White Stag via Goodwill
Jacket: 600 West via Dunkleberger's in Stroudsburg, PA
Pants: Lane Bryant
Earrings: via Peony Fashions in Forest Hils, NY
Shoes: from Aerosoles store in Forest Hills, NY