My jacket is getting fuzzballs on it... not quite pills, but their cousin. I really need to take some time and a pair of nail scissors to it to smarten it up again. I'm trying to decide if it is good with this top, or if I should just stick with the
pink/purple jacket
when wearing this top. Your thoughts?
I love this top-- it's so floaty and fanciful. I don't want to clutter up this post with too much, but the link above shows the top better, also. But the front detail weigh the neckline go waaay down, which isn't such a good thing for work. My solution: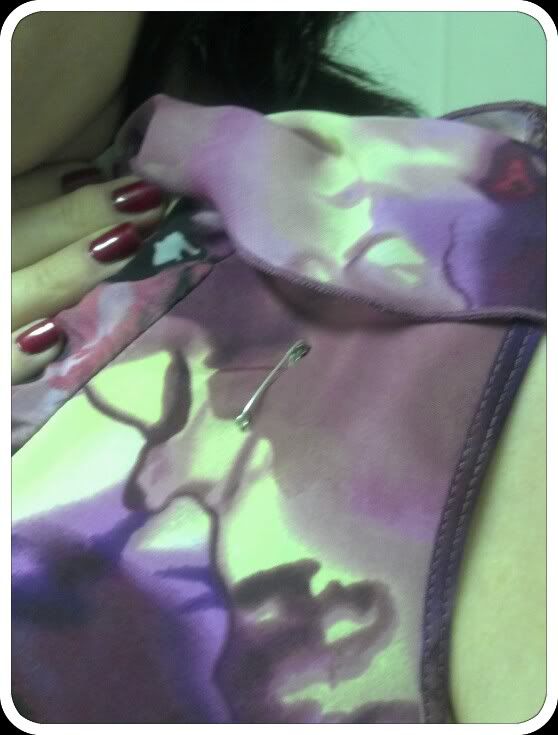 I think I'm going to redo these earrings... and a bunch of my other ones. I will get into that plan in a later post, I suppose.
My plain brown pants are getting a bit run-down... the butt-flaps tend to stick out, and previous effort to tack them down have met with failure. The outer seam on one leg has an inch-long split that I need to fix, and one of the butt-flap buttons has made off for parts unknown. I didn't take a photo of how it is today, but here's an old one of said butt-flaps:
I found a small hole in the lining of my right shoe, where my pinky toe hits. I need to get that looked at soon, before I wear a hole in the suede in that spot. I really like these, but the suede is so soft that I worry:
Time to take them to the cobbler....
I drive by this place almost every day, on my way to my office. Look carefully on the upper right of the photo: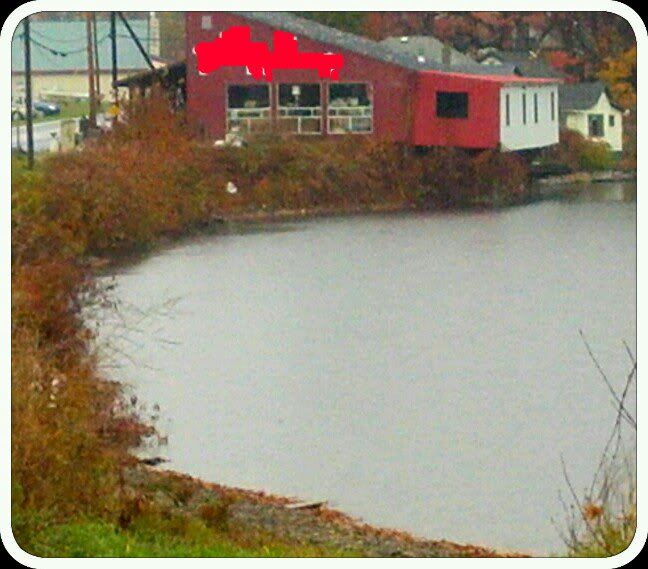 Every day that I drive by, I wonder why it has not fallen into the lake!
Made it to ballet class at the Y tonight... balancing precariously doesn't even begin to describe my abilities in that class. I look like a retarded epileptic elephant on a bender! But I still like it, even if I have to sit out the jumping parts.
Top: via Stein Mart
Jacket: Talbot's Petite
Pants: Lane Bryant
Shoes: Trotters via a now-defunct shoe store
Earrings: via farmer's market in Corning, NY