This one is a bit late, but the last couple days have been pretty busy for me. An almost universal part of women's lives is that we tend to do a lot for other people, and for work-- often neglecting ourselves. I try pretty hard to not fall into that trap! But I have been so busy over the last month that I've regained a bit of weight... ugh. Guess there is at least one way I need to STOP treating myself....
Anyway, here's Thursday's outfit:
I am so annoyed that the colors are not turning out accurately in that pic! The pinks in the top are actually a perfect tonal match for the jacket... you will just have to trust me on that. It was actually warmer over the last few days, so I'm getting in my "last wear" of my summer pretties before they get put away. And this top is one of my newer favorites:
I picked up a couple of pretties for myself at the farmer's market, because I simply couldn't resist. I did, at least, reduce my "wish pile" to two items. Here is one of them:
The pic of the bracelet is pretty good… except it doesn't come close to capturing the color. The green is yellower, with a lovely glow. So I played around with the Photoshop Express app on my phone to try to get to the actual color… it's closer, anyway:
I grabbed these from my existing stash to coordinate with the bracelet: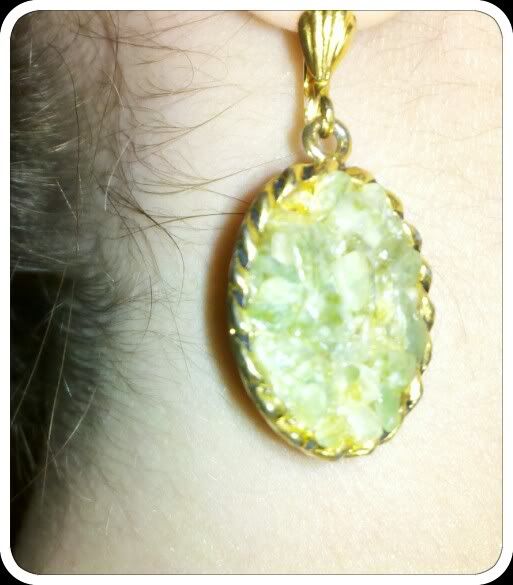 Everyone and their brother, when discussing where I had night court on Thursday night, suggested that I go to dinner at a certain lakeside restaurant. I decided to take the advice, treating myself to a glass of wine, apricot baked brie, and chocolate cake. I couldn't get a phone signal, or much internet access, so I had my dinner while reading "Great Expectations", which I already had downloaded onto my Kindle app. Then I went onto the balcony, then the dock, and relaxed by the nighttime water:
I find it funny that I needed to use photo effects to make this look something close to what I actually saw… I don't know why NONE of my Thursday photos had a decent depiction of color!
Same pants and shoes from Wednesday, not bothering with those pics today.
Top: via Stein Mart
Jacket: 600 West via Dunkleberger's in Stroudsburg, PA
Pants: Lane Bryant
Shoes: Trotters via DeGaetano Shoes in Hornell, NY
Earrings: gift from a friend
Bracelet: via farmer's market in Bath, NY