I'm on Day 3 of wearing these pants... a new record! I usually wear pants two times before washing, usually two days in a row because I don't have much of a place to put "semi-clean" clothes. But for this week, I actually wore the same exact outfit Monday
and
Tuesday.
But only because I was at work for less than four hours on Monday. So the outfit was perfectly good for another day. I looked better on Monday, but didn't get a blog shot until Tuesday:

Note to self: get bangs trimmed!


I liked the idea of the beige-ish "pearls" in the hair flower with the ones in the jewelry set. I couldn't find the earrings to photograph them tonight, but they match the beige-ish "pearls" in the necklace: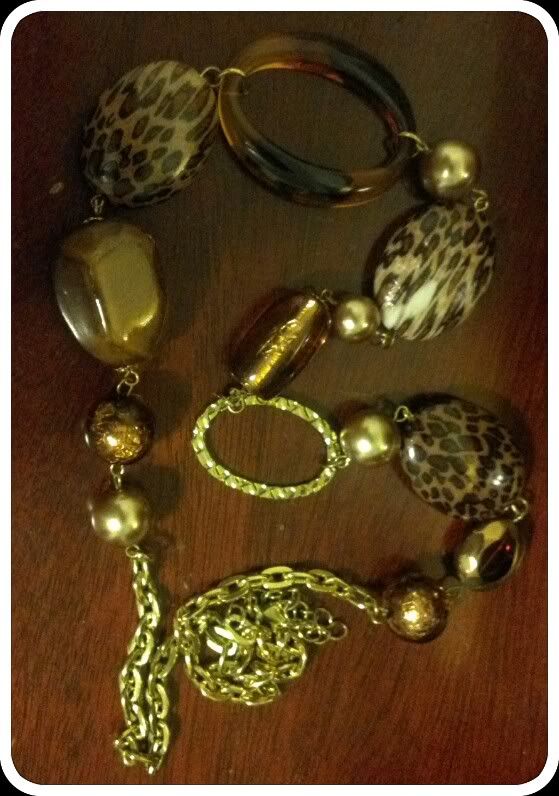 Wednesday was my true "groder" day. My phone, which doubles as my alarm clock, ran out of juice-- so I didn't wake up until I was already over two hours late for work! Even worse: my boss had to cover a court appearance when nobody could reach me! No time to shower... I
hate
that stale, unwashed feeling *shudder*.
I gave myself a quick pass with wipes, and I am soo glad I have backup grooming supplies in my desk. But I forgot that these reds don't match: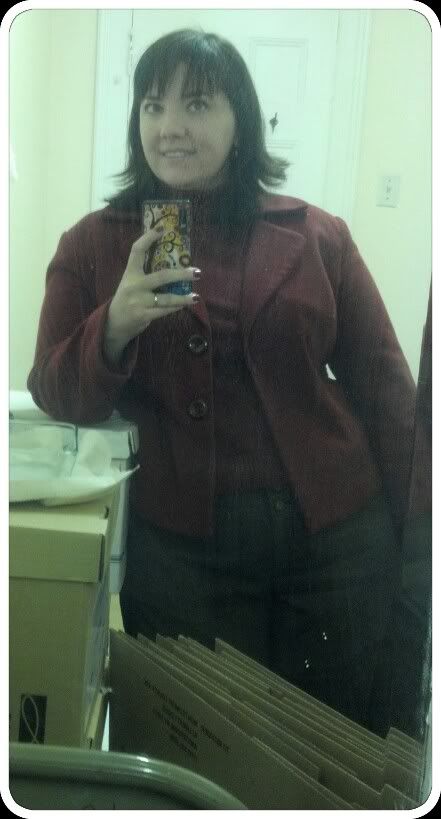 Not easy to tell in this photo... shot in the mirror at work at about 8:30 this evening. Yep, I actually more than made up the time I missed this morning. I actually prefer to do my video conferences with my jailed clients after hours, so I don't get interrupted by other stuff.
My hair is cracking me up! Can you tell that I wore a wet ponytail yesterday?
I just grabbed basic earrings for the day... didn't exactly have time to get clever with accessories!
Along with the pants, I also wore the same jacket and shoes all three days this week: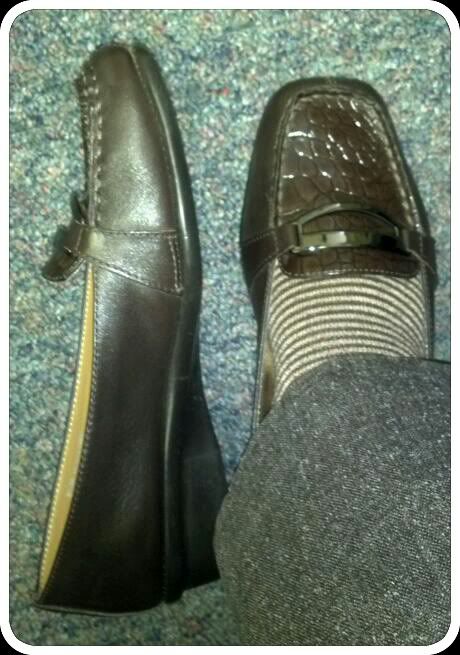 Not winning any originality points this week, that's for sure! But I'm mostly clean, and dressed appropriately for work... I'm not expecting much from myself right now. I'm just going to concentrate on the basics right now. Hubby is still in a lot of pain, and can't help with much at the moment.
Between laid-up Hubby, tons of work, and a felony trial in less than two weeks... clever styling, sensible diet, and exercise have flown out the window! But I'm still going to try to blog as I can manage.
Sweaters: VanHeusen outlet
Jacket: VanHeusen outlet
Pants: Lane Bryant
Hair flower: via art fair in Hammondsport, NY
Hoop earrings: via JC Penney
Jewelry set: via Bon Ton
Shoes: Aerosoles