I presented five books to choose from at the last book club meeting, and the members chose:
I, of course, already read all the books I presented, so I could give a quick description and note any "sensitive subjects" that might bother some of the ladies. And I checked the library system website to see how many copies are available for check-out. Check out Amazon for decent descriptions/reviews. There's also a movie, which I have not seen.
The way this book club works is that whoever presents the book to choose from at one meeting "hosts" the next one. Since I live a good 30-45 minutes from the rest of the members, I co-hosted the meeting at someone else's house this Thursday. While others contributed some food and drink items, I covered the bulk of the entrees. Since the book is about a Bengali woman living in London, I went with a "South Asian" theme. I brought "safer" Indian food dishes. I didn't make them-- they are packaged entrees I put into my own containers. Yep, *evil giggle* I totally faked the ability to cook!
I also went with my theme in my outfit for the day. Of course, I was so busy that I only got a mirror shot pretty late: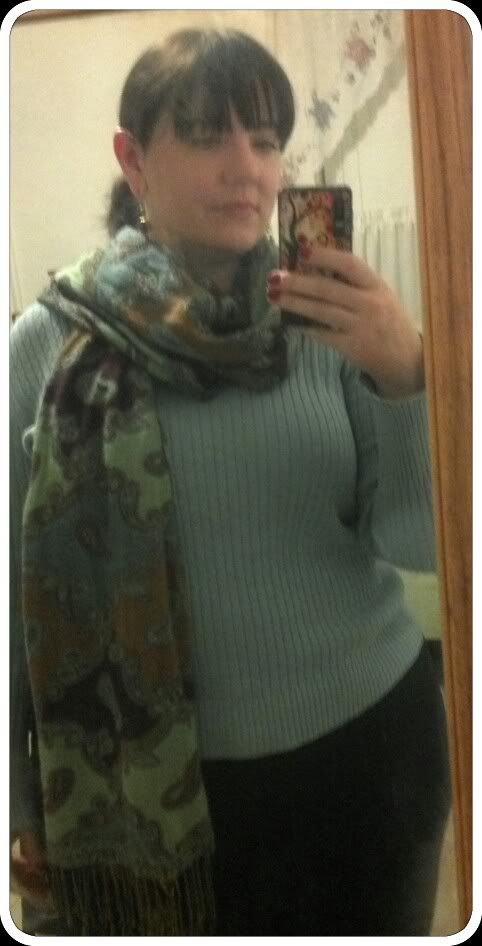 The (male) prosecutor in court this morning remarked on my "fabulous earrings":
And my scarf got several compliments at the book club meeting... they were surprised that it is actually cotton (I'm allergic to "real" pashmina):
Color-coordinated to my toes:
I forgot to get a photo of my Wednesday outfit after I got home from my Junior League meeting. Busy week!
Most of the time, I don't fret too much over my allergies to all animal fibers. Then I see something fabulous, and get really, really ticked that I can't have one for myself. Like Gretchen's amazzzing boiled wool jacket:
I also envy her ability to wear mustard next to her face... that color looks awful on me *sigh*. I love the mustard and teal combination, and will try to figure out a flattering, non-itchy way to do this for myself!
I have no idea about the sources of her outfit, but here's mine:
Sweater: Old Navy
Scarf: random store in Paris, France
Earrings: World Market
Pants: Lane Bryant
Shoes: Bass