Friday
theme
: "Statement Rings"
I have a couple of rings... gifts, sentimental, pretty. But I can't wear them now because my fingers are fat! Truthfully, I'm not much of a ring person anymore, so that day's theme for the challenge I've been trying didn't look like it would happen.
But one ring I have worn daily for almost four years... and it does make a statement for me:

Yep, my wedding ring. Did I "choose" it? Not exactly... I found it on the ground when I was twenty, and hung onto it. Some would probably be appalled that Hubby didn't buy a lovely ring for me and that I never had an engagement ring. Hubby feels a little bad that he couldn't get a diamond ring for me, and I think he has a hard time understanding that I truly don't care about having a big sparkly "trophy" of his love.
When we decided to get married, we were flat broke. Hubby had just followed me to MI because I found a job there, then was offered and accepted his current job in NY perhaps two weeks after his arrival. We had not even unpacked before I learned that we had to move again! When I told my mom, after having only been back to MI for my new job for two months... she
roared
with laughter!
We had a quickie "legal" wedding, which we did as a handfasting, a week before Hubby had to report to his NY job. By the time we had the "ceremonial" wedding in MI three months later, I had completed my third cross-country U-Haul move within a year.
My car was totaled, and we couldn't afford to buy another yet. Our first six months in NY, we took buses to work and navigated grocery shopping on buses with rolling luggage-- we got some funny looks from the staff in Wal-Mart! We would also walk with our laundry in rolling luggage to and from the laundromat.
So, no money for rings. So I pulled out the "foundling", and decided that it would do. And I have no desire to "upgrade" later when we could afford it.... It's a symbol that whatever we gain from our wedding onward, we have entirely done it together.
Some people would ask why no prenup? After all, we are both lawyers. Prenuptial agreements are largely to protect the wealthier spouse (or the one with greater earning potential) from unfair asset distribution upon divorce. Or to protect assets for the benefit of preexisting children. Our educational level/earning potential is approximately the same. Neither of us had any assets-- just liabilities which remain "individual". I owe more in student loans, but Hubby has another financial liability in the form of Stinky. Since we started our life together on an essentially equal footing, a prenup would simply be an exercise in selfishness. We're not "friends with benefits"... we are a
team
.
Except on my blog... the fashion flops are my own! So for the rest of Friday's outfit:
To be fair, the green in the scarf does match the sweater, it just doesn't look like it in the pic: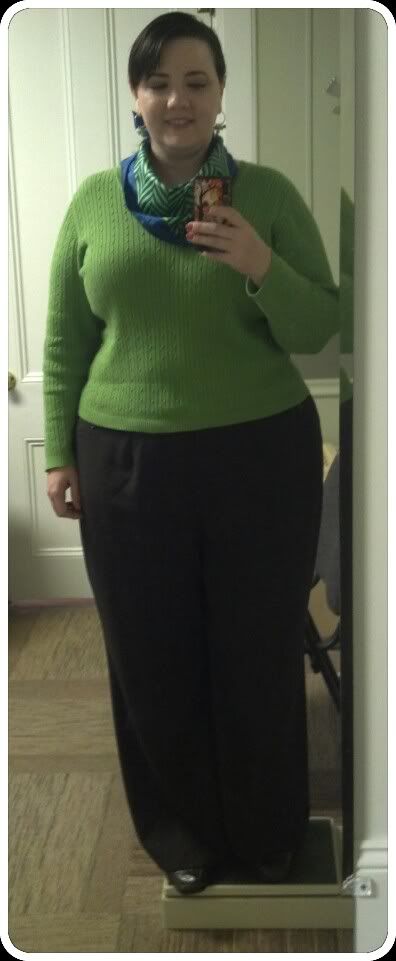 Yes, I'm standing on a scale to get my mirror pic. No, I didn't weigh myself... that's how me and my second chin can still smile....
The scarf is actually one of those "rain scarves" the old ladies wear to protect their "set" hair. The fabric is thick and hard to keep folded, which seems to be why it didn't lie flatter.
The little bead dangles on my earrings amuse me for some reason:
I'm sooo glad I didn't wear my brown suede shoes... due to Winter Storm Nemo, my shoes got pretty wet: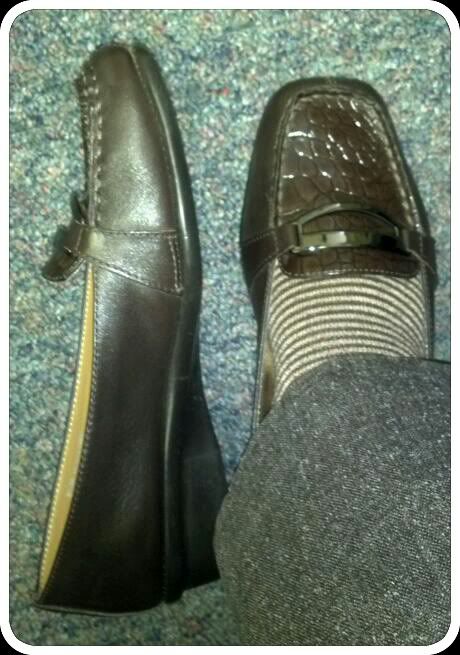 An old pic of my barrette: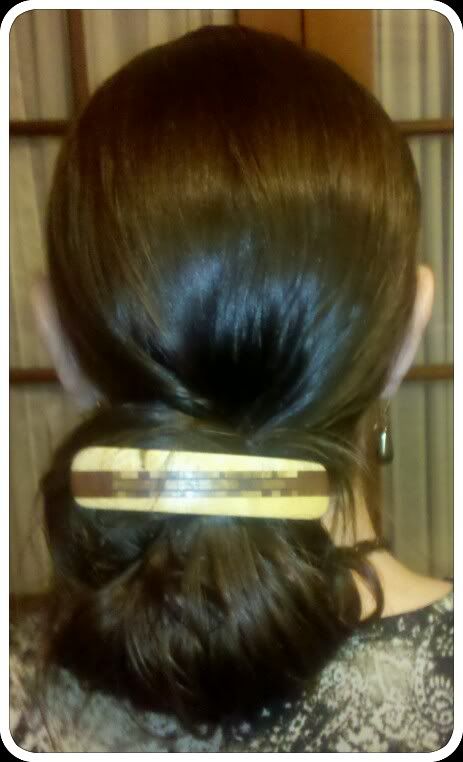 I've been so drained due to the constant stress Hubby's situation is putting on me. I haven't seen the inside of the gym in two weeks, and my diet has gone from bad to appalling. I haven't even had the energy to do my hair often. So I'm back to (shorter) ponytails for ease.
Saturday and Sunday themes: I didn't leave the house so I skipped those days in the
challenge
.
Sweater: St John's Bay from JC Penney via consignment shop
Earrings: Jacklyn Smith from KMart
Barrette: gift from Mom
Pants: Fashion Bug
Shoes: Aerosoles