Why does Lane Bryant do this to me? I've been spending my money there for ages... and they finally come up with the best suit separates I've seen from them in possibly forever. I'm particularly upset about this set: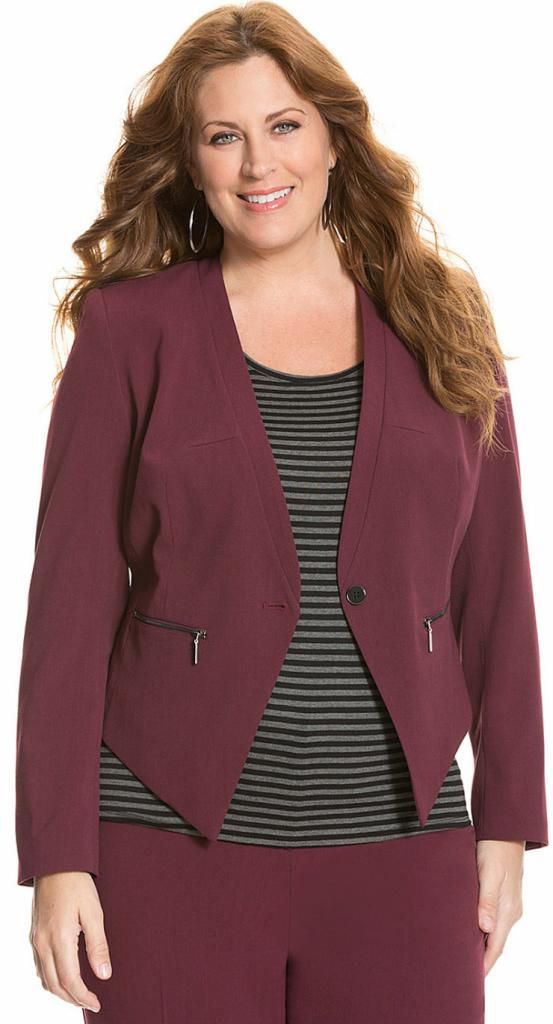 Why? Because I bought the same jacket, with matching trousers in black and gray. And they look
wonderful
on me, as would this "Dark Sangria" pantsuit. I ordered a matching skirt in black as well, but the jury is still out on it (length may be an issue). The jacket looks fantastic on my frame, and I am of the "buy one in every color (that you like)" school.
But this lovely burgundy suit is off-limits... I'm crushed!
Somewhere in my basement, there is a pair of red pinstriped black trousers. I think they are a size ten... a place I haven't been quite some time. I have serious questions about whether it is reasonably possible, or even wise, to attempt a journey back there.
In a recent "check-in" chat with Mom, she pointed out that (following massive weight loss after decades of obesity) if she could have her excess skin removed... she would be at her goal weight. I have seen so many people, and photos of people, after extreme weight loss. Some just look older than they should. Others look like a melted candle. Not good.
So I would welcome a pair of red pinstriped trousers in my current size. And the coordinating jacket (perhaps better to use a black one?) would be a real bonus. Too bad they won't fit:
Lane Bryant has two basic "cuts" of pants. The pants from the above photos only come in this one:

Did that woman's body look anything like mine? Nope! Their "Lena" cut is closer to what I need, but I still need to have the tailor take the waist in a bit:
I can't just buy the "Sophie" pants and have the waist taken in. The result would be a mangled mess! The waist is waaaay too big, and the legs and hips/backside far too small. The thighs and knees are usually cut too slim as well. Women generally carry weight mostly in the abdomen or mostly in the hips and bottom. The difference is much more pronounced with us plus-sized customers.
My additional challenge is that my legs are proportionally thicker than most women's... even other "big" women. Which is why boot-cut pants often aren't great on me, and slim or skinny cuts are atrocious!
I just don't understand why they would make certain pants in only one of their two cuts. This is just cruel!