**If you haven't seen it yet, check out my
GIVEAWAY!
**
I have a couple issues with my new jewelry (from a jewelry party) that just came in. So I need the stylish ladies from the internets to help me decide a couple things:
1. Are these earrings too big for me?
Too shiny, too "ghetto fabulous" for a lawyer?
2. Which collar looks better with my favorite pendant?
A. Hammered silvertone collar:
B. Hematite faux-braid collar: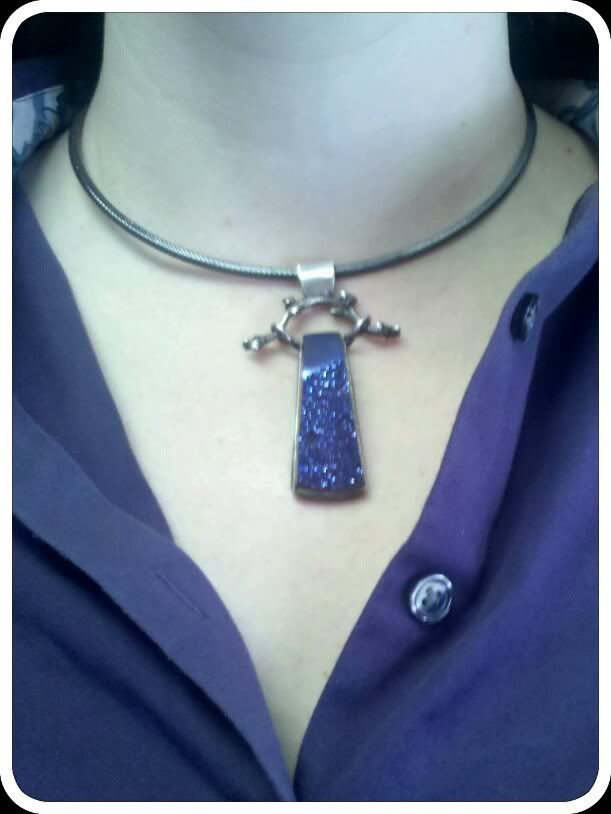 This is pretty much the outfit I was going for when I accidently wore the
wrong pants
: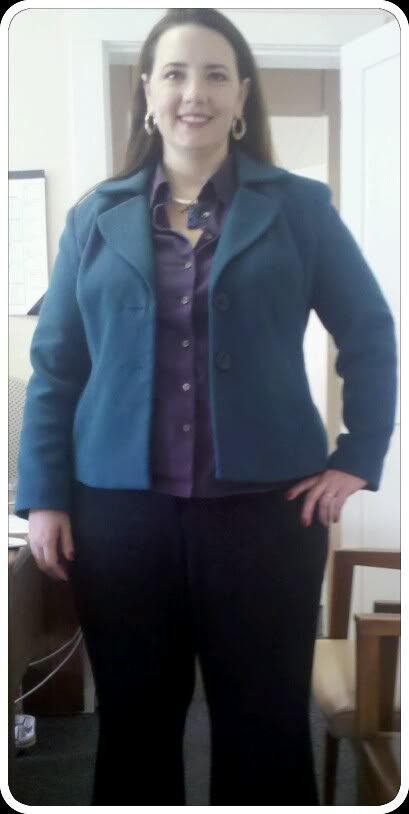 Now, even the right pants are starting to get really baggy. Whoo-hoo!
Top: VanHusen outlet
Jacket: VanHusen outlet
Pants: Lane Bryant
Shoes: Ariat
Earrings: Premier Designs
Silvertone collar: Premier Designs
Hematite collar: Lia Sophia
Pendant: purchased from an artist at the Kalamazoo Art (gallery) Hop
And for
Friend Friday
... this time it's about blog promotion:
1. How do you promote your blog?
I don't really promote it. I started the blog because I moved away from my family, and it was a long-distance way to do the critiques and kvetching we did in person before.

That said, I am really loving that other people read it, and they have valuable input. So I would like to expand that a bit, but I'm not treating it like a business venture (cards, conventions, etc)... It's really "semi-private"... I'm not hiding anything, but I'm leaving some information out because I don't want my clients to find it on a Google search.

I do try to leave meaningful comments on other fashion, beauty and lifestyle blogs. And I post with "Friend Friday"
2. In your experience what has been the most effective form of self promotion?
For me, "Friend Friday".
3. Do you think there is a wrong way to promote yourself and your blog?
Probably a generic comment with a website address. I don't mind when that's put on mine because I'm loving seeing what's out there, but I can see how it would irritate someone with a larger readership.
4. When is comes to others pushing their product what annoys you?
I suppose I haven't encountered that yet.
5. In Dressful's post on this topic earlier in the week she said, "It's impossible to respect someone who wants all the attention, but adds nothing worthwhile to the conversation." Do you agree?
YES! I'm stealing part of ModlyChic's answer because I love it: "Fashion and Beauty bloggers aren't all mindless superficial college drop-outs. We have thoughts, opinions, passions, desires and independence. We need to bring that to the blogging world and add to the conversation. And if there isn't conversation we need to start it."

Preach on, sister!
[Edited to Add: I don't understand a big push to get a lot of followers. But I love that my own blog has expanded beyond it's original purpose (for long-distance family and friends), and I get stylish, intelligent internet buddies!
And I love that my few readers can give me an objective eye when I'm not looking my best, and ideas on how to correct it. Just as I talk to other lawyers when I need help, I'm now doing the same with other bloggers.
And I like tracking back through commenters' posts, and have gotten several great ideas from reading their blogs.]