Because I only just decided to cave in to peer pressure and just do it. Really, because its been highly educational (and amusing/horrifying) for me to look through my posts.
I'm (mostly) only going to recap the good. For the trainwrecks, you will just have to go through the posts yourself- I'm not reliving that horror!
I called this post
"Oompa Loompa"
because the camera angle made my legs look stumpy:
Not a great photo, but the outfit is good. I wore it once a week all summer, but didn't wear a necklace because it was too stinking hot! I did get a comment that my feet disappear under the pantlegs. I'm hoping to remedy that issue once I get my other brown shoes back from my podiatrist.
The controversial sweater from
"Taking my lumps"
:
It seems the only time anyone likes it is over a collared shirt. Upon review, I concur. I really need a good black jacket. Same photo issue with the legs, but my face looks good in this one, at least. I often don't photograph well.
I just love this top from
"You could be struck blind"
, but it looked better with the jacket on because it was a bit tight in back: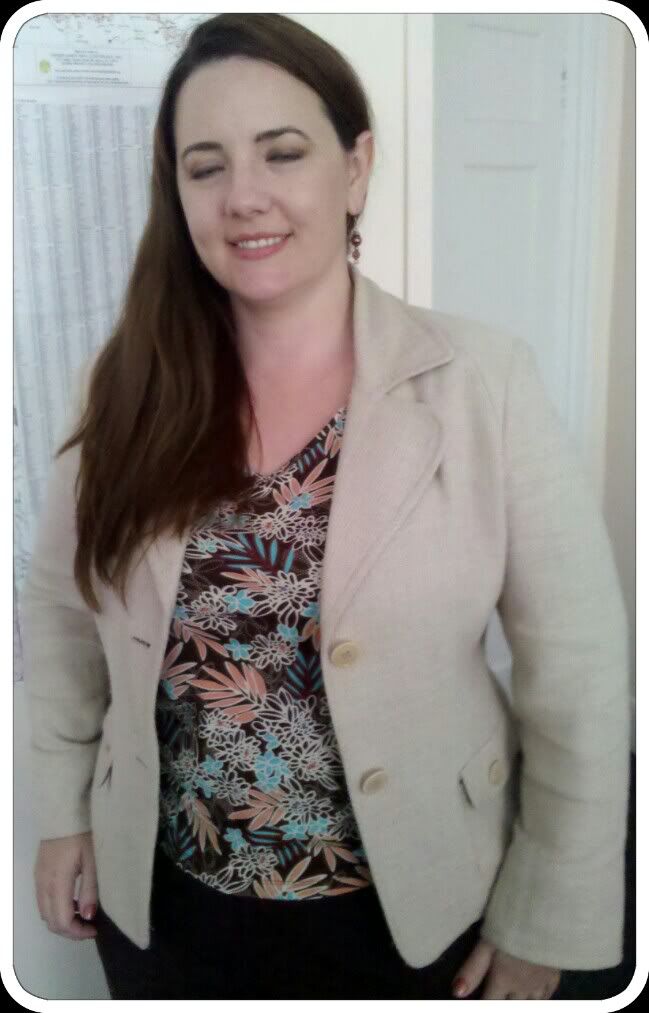 I have got to get Snookums to send me that necklace (that matches my earrings)! It looks a little bare....
My most daring outfit
"Experiment"
, where I stepped the furthest out of my comfort zone (with some success):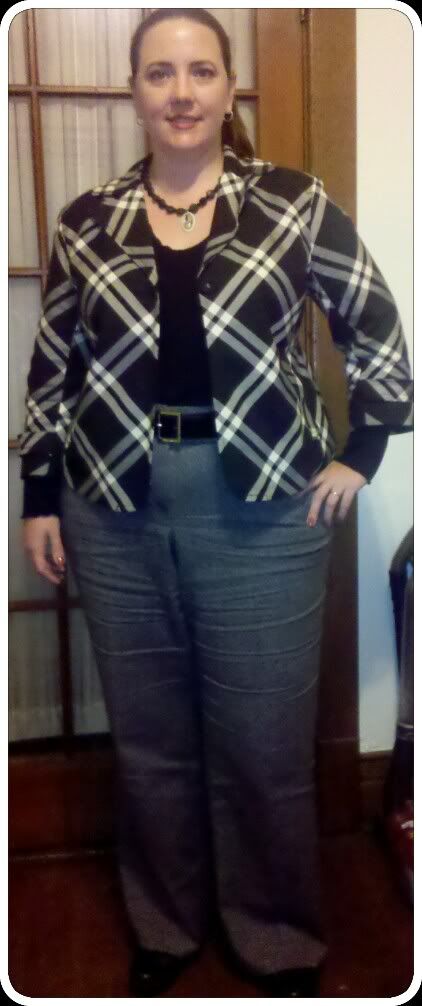 The only thing that kept this outfit from becomming legendary was the weird fabric of the pants, which kept stretching and bagging out through the day. I still have to let Lane Bryant know about my extreme dissatisfaction.
September was my first month blogging and analyzing my work wardrobe. I see a lot of room for improvement in accessorizing and remixing items. But that's why I'm here, right?
For blogging issues, it took me a few posts to get my photo borders consistent. I also started taking more closeups for accessories and fabrics, tried to improve camera angles, and got better with cropping.